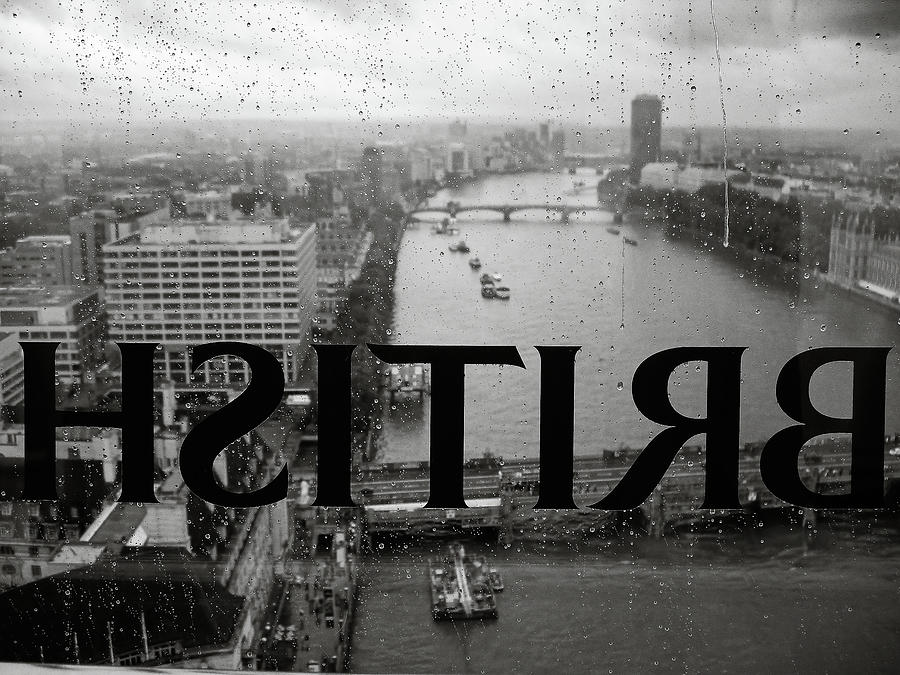 Dimensions
7296.000 x 5472.000 inches
This piece is not for sale. Please feel free to contact the artist directly regarding this or other pieces.
Click here to contact the artist.
Title
A Rainy British Vista
Medium
Photograph - Digital Photography
Description
"A Rainy British Vista," created on June 24, 2007, is a stunning representation of an atmospheric day in London. This digital photograph provides a unique view of the Thames through a rain-drenched window with the word "British" written in reverse, adding to the charm and peculiarity of the scene.

With a resolution of 7296 x 5472, this urban landscape photograph captures the mood of a rainy day in London impeccably. The Thames flowing quietly becomes the central theme of the image, while the inverted "British" gives it an original and evocative touch.

This black and white image employs raindrops as a natural texture on the window, blurring and distorting the view outside, creating an enchanting, dreamlike atmosphere. The raindrops, each unique in their shape and path, reflect the variability and unpredictability of British weather, adding to the image's storytelling aspect.

"A Rainy British Vista" is more than just an urban landscape photograph; it's a contemplation of London's atmosphere, its weather, and its distinctive charm. Ideal for art lovers attracted to unconventional urban depictions and those who appreciate the captivating beauty of a rain-soaked cityscape.
Statistics
Viewed 1,674 Times - Last Visitor from Houston, TX on 12/09/2023 at 10:31 PM