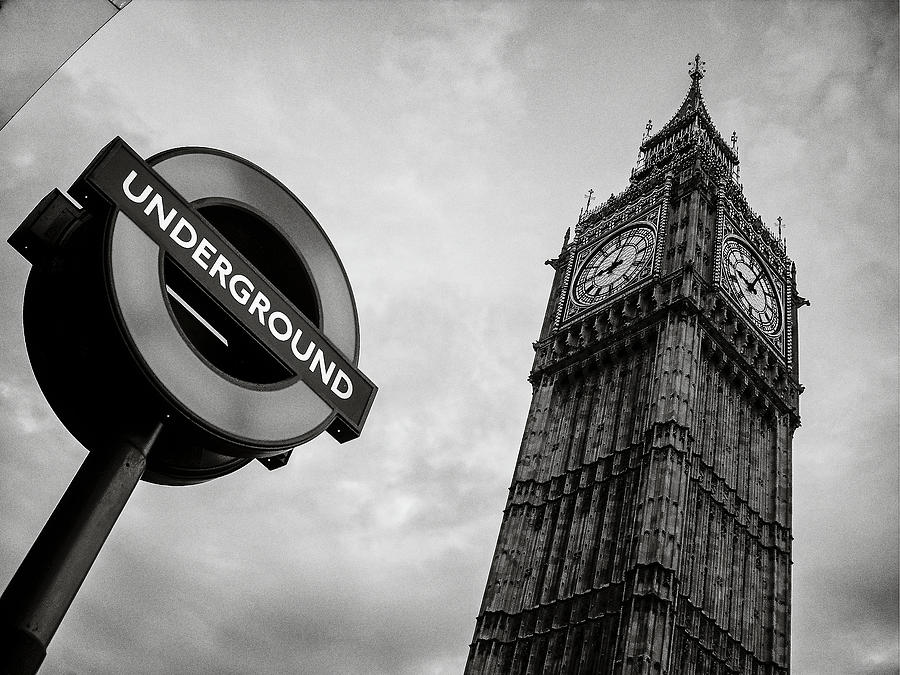 Dimensions
7296.000 x 5472.000 pixels
This piece is not for sale. Please feel free to contact the artist directly regarding this or other pieces.
Click here to contact the artist.
Medium
Photograph - Digital Photography
Description
"Urban Contrasts," created on June 22, 2007, is a work that encapsulates the vibrant and tumultuous essence of London, one of the world's most iconic cities. This black and white urban landscape photography provides a unique low-angle perspective, creating an almost cinematic frame that seizes attention and stirs the imagination.

In the foreground on the left, a metropolitan sign from London's famous "Underground" stands assertively, offering a tangible reminder of the ceaseless bustle that characterizes life in this global metropolis. To the right, Big Ben, an unchanging symbol of the city, stands proudly, despite the stormy clouds that seem to besiege it. These two icons of London's urban landscape create a poignant visual dialogue, symbolizing the city's characteristic blend of historical past and dynamic present.

This work, measuring 7296 x 5472, employs digital photography technique to create an image rich in detail and texture. The choice of black and white adds a touch of nostalgia to the piece, while enhancing contrasts and architectural details. It also gives the stormy sky dramatic depth, reinforcing the theme of duality between old and new, history and progress.

"Urban Contrasts" is more than a mere photograph - it's a visual ode to the complexity and paradoxical beauty of urban life. It offers viewers a unique opportunity to engage in a silent dialogue with London and to reflect on the constant interaction between man and environment in our modern cities.
Statistics
Viewed 1,933 Times - Last Visitor from Houston, TX on 12/09/2023 at 9:59 PM